Jodi Lyn O'Keefe has just been booked making her very first Official TVD Convention Tour visit. She will appear on stage Saturday and sign autographs and do photo ops Saturday as well. She will sign on a complimentary basis for Gold Patrons, others may purchase her autograph for $30 if desired.

The Vampire Diaries
Official Convention

ORLANDO, FLORIDA
Fri., Sat. & Sun
December 11-13, 2015
Tickets : here
Jodi Lyn O'Keefe gives us hope she could return to Vampire Diaries (again)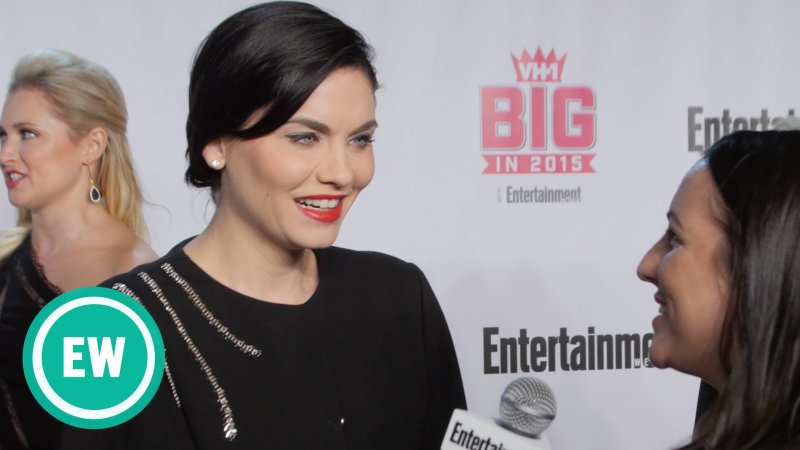 Just weeks after Jo was brought back from the dead on The Vampire Diaries, she died again. On the Nov. 12 episode, Jo left the world with Alaric by her side, but actress Jodi Lyn O'Keefe says the chance remains that her character could return for a third time.
"That's a Julie Plec question, I think," O'Keefe told EW on the red carpet of VH1 Big in 2015 with Entertainment Weekly on Sunday night when asked about her future status. "But I'm not afraid to tell you that many, many people on the Interwebs, as I call it, have pointed out to me that vampire blood did go in my mouth before I passed away. So…"
O'Keefe first left the show last year, and said that returning to the set was "bittersweet."
"It was such a double-edged sword. Because I missed those guys so much – the cast and the crew – it was such a nice homecoming for me. We get on set and we're all screaming like little girls to see each other again. And then they sort of let me know what was happening."
Was That Really The End Of Jo?
Poor Alaric was forced to say goodbye to Jo once again on the devastating Nov. 12 episode of 'The Vampire Diaries.' But is Jo's road really over? Jodi Lyn O'Keefe sounds off to HollywoodLife.com EXCLUSIVELY about a possible return.
The beautiful Jo "died" once again on The Vampire Diaries, with Alaric by her side. Jo's been brought back to life once, so is she really gone for good? Jodi Lyn O'Keefe talks to HollywoodLife.com EXCLUSIVELY about the whether or not this is end for Jo, her thoughts on Alaric and Caroline and more.
Is this the end for Jo?

Here's the thing — I thought it was the end of Jo last year. And then apparently it wasn't the end for Jo. And then I thought it was the end for Jo again. They sort of like to tell me right before it all happens, so I know about as much as you do.

If it was the end for Jo, were you satisfied with her ending?

I was. I really got the moment that I wanted for Jo and Alaric. I gave him a little bit of closure. I'm so attached to that cast and crew. I feel like I got what I wanted in the end…I'd love to go back. I'd love to be back with everyone again but if that was it, I'm happy with the work that I did.

Do you think Jo would approve of Alaric and Caroline?

I think Jo would approve. Caroline's one of my favorites.

How do you think Jo would react to Caroline carrying her twins?

I think she would be relieved. Her babies get to live. They're a little piece of her and a little piece of Alaric. She'd be so happy they didn't die as well on that terrible wedding day.
by Avery Thompson
TVD Ep. 6 "Best Served Cold" – Screencaps
I added Jodi's screencaps from The Vampire Diaries. It was her last episode as Jo
(Faux Jo/Florence)
on the show..
Tv Series > The Vampire Diaries > Season 7 > Screencaps >
7 x 6 – Best Served Cold
Jodi Lyn O'Keefe on Jo's Twisted Revival: 'My Jaw Dropped'
Thursday's Vampire Diaries formally reunited Alaric with (the body of) the love of his life, and it turns out her portrayer was just as surprised by Jo's revival as most of the CW drama's fans.
"I got the call telling me I was on hold for such-and-such a date to go back, and my jaw dropped," Jodi Lyn O'Keefe tells TVLine. "I was like, 'I'm not the only one to stay dead on this show? Yes!'"
Below, O'Keefe discusses playing dead during her first day back on set, her new approach to portraying Jo (but also not Jo) and what we can expect from her character's journey of self-discovery.
TVLINE | Let's start with that first episode in the morgue. What are your fond memories of filming those scenes?
It was really hard not to laugh, especially when Ian [Somerhalder] was around, because he and I had a couple of really funny moments when I was dead. I was on that slab for a couple of days, so it felt like I was dead forever. There was a lot going on while I was lying there with my eyes closed, and the first thing I did was come in and ask everybody, "You guys got your words memorized? I got mine."
TVLINE | Jo's only been dead for a few episodes, yet so much has changed in that time. What are your thoughts on all these new developments?
Everything's a lot darker, which I love. It seems a lot more intense, and I'm loving the trips through time — the flash-forwards and flashbacks. It's really interesting to see what's happening to these people as they're all sort of unraveling. I love the direction they've taken the show.
TVLINE | And how has your approach to playing Jo changed, now that she's… not really Jo?
Really, I just went with the amnesia. Regardless of who or what this is inside Jo, she doesn't know anything. So it's a clean slate at the moment, which is really kind of nice, because you get to discover who she is as you go along.
TVLINE | Do you even refer to her as Jo? Caroline Dries called her 'Faux Jo' the other day, and I like that.
[Laughs] I really like that, too. I've been calling her many things, but Faux Jo's been one of them.
TVLINE | At any point, did they tell you who's inside Jo?
Yes, finally. They like to hold information from us. Everything's on a need-to-know basis, but I do now know who's in her body. … That sounds bananas, by the way. What a statement.
TVLINE | And how did you feel when you found out Alaric has twins in the future?
I was so excited, I can't even tell you. I met [the twins] with Matt Davis last year and they really do look like us, so I was like, "Oh, God, this is the greatest thing ever."
TVLINE | Generally speaking, what can we expect from Jo in the coming weeks?
Self-discovery, and a lot of it. She'll be figuring out who she is and where she came from and what's happening. It's like a baby being born.
By Andy Swift
« Old Entries
New Entries »